Description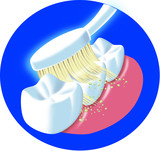 Why Get a Silver Infused Children's Toothbrush?
Your child's dental hygiene is an investment in their future health. No kid wants to have yellowed teeth, smelly breath, or gum disease. As their parent or guardian, you don't want that for them, either! Give your kids an edge in dental hygiene with a silver-infused children's toothbrush!
Specifically designed for children, our silver toothbrush tackles the toughest areas in a kid's mouth that are usually untouched by regular brushes and bad brushing habits. Think of the junk food, candies, ice cream, and more sitting on your children's teeth. Standard nylon bristles cannot reach all areas of your child's mouth and do not come pre-constructed to fight off bacteria. Utilizing silver's natural antimicrobial and antibacterial properties, a silver infused toothbrush can eliminate up to 99.9% of bacteria in one brushing experience!
Silver-Infused Bristles
You may have heard of or even use our silver-infused toothbrush for adults. The children's toothbrush is the same great silver cleaning technology, but for kids! New revolutionary oral technology has culminated in the dual-layer silver infused brush bristles found on your children's toothbrush. The dual-layer of soft and thin bristles allows for a deeper clean, reaching tough areas between teeth and the base of the teeth at the gum. Bristles gently cleanse the gums and teeth, while the silver infusion removes harmful bacteria. This results in a deep clean, like the one you receive at the dentist's office. As an added bonus, the comfort-grip handles makes it easy for your kids to hold while brushing.
Get your kids the cleaning power they need to preserve their smile and maintain healthy gums well into their adult life. Shop for a silver-infused toothbrush today!
View All
Close