Description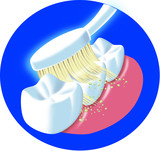 The Mouth Watchers Superior Manual Toothbrush offers a breakthrough in oral care by providing the optimal cleaning experience.
The revolutionary antimicrobial dual layer flossing bristles, reach into areas untouched by prior toothbrushes, leaving teeth and gums feeling just as clean as after a professional dental cleaning.
Eliminates 99.9% of bacteria that builds up on bristles in 6 hours due to proprietary silver bristle technology.

Revolutionary Flossing Bristles™ - long, soft bristles with 1 micrometer diameter tips reach areas missed by other toothbrushes.

Bristles reach deep into teeth grooves and the periodontal pockets (area between tooth and gum) for superior cleaning,
while harder inner bristles ensure complete cleaning of the outer surfaces and massage the gums.
Comfort grip handle

High quality construction

PBT Bristle material outlasts traditional nylon used in competitive brushes
Made from advanced PBT (polyester) plastics, these bristles outlast less exp

ensive nylon bristles found on competitive toothbrushes.
Patent pending Flossing Bristles™ are 10X thinner than bristles on ordinary toothbrushes and 1 micrometer (1/100th the diamete

r of human hair) at the tip.

View All
Close
5 Reviews
Mouth Watchers Toothbrush

This is the best toothbrush I ever used and I wish I had had it sooner. The only thing wrong is knowing that if i had had it sooner my teeth would not have had the problems I've had in the past!!!

It feels real good compared to my old brush

Best toothbrush I've ever used

Brushing with this toothbrush makes me feel like I have just been to the dentist for a cleaning! I've never used a better toothbrush. There isn't any other brand on the market that I've seen that can compare! Now I'm stocking up to have replacements!

I love this toothbrush. It is the best I have ever had.
View All
Close