Boost Your Immune System with One Silver Solution® 10ppm
Protected by US Patents: 7,135,195; 6,743,348; 6,214,299
Tested by certified independent laboratories

The Patented Silver Sol Process Makes the Difference...
Through years of testing, our manufacturing team has been able to develop and patent a manufacturing process that created a much more stable silver product. This new structured silver technology created an engineered silver nano particle making it the best silver product ever created. This new technology is far superior to the older process known as colloidal silver. With both manufacturing processes, the silver particle is inside a water molecule. The older process creates larger particles or particles with jagged edges which cause the particle to break through the water molecule. When the particle breaks through, it can attach itself to tissues inside the human body. Over time, using colloidal silvers can cause a buildup of particles and may become toxic, similar to taking too much Iron and other minerals. This is not the case with the new patented process used with One Silver Solution. The particles are engineered down to nano sized particles with a thin multivalent silver oxide coating and do not break through the water molecule. This allows the particles to travel more efficiently through the body and will be flushed out within approximately forty-eight hours.
Supplement Facts:
Serving Size: 1 tsp. (5ml)
Servings Per Container: 96
Ingredients:
Purified Silver 50 mcg*
*Daily Value not established.
Other ingredients: Deionized (distilled) Water.
Suggested Use:
Adults: 1 teaspoon up to 3 times daily.

Children: 1/4 to 1/2 teaspoon once daily.

Increase as needed or desired.

Best if taken one hour before or after eating.
This product has a 3 year shelf life from date of manufacture.
Store at room temperature.
WARNING: If you are pregnant, nursing or have any allergic reaction to trace minerals or if you have any chronic or recurring symptoms or illness, consult a healthcare professional before using this product.
Contains no artificial ingredients, preservatives or additives.

100% Vegetarian.

Gluten Free.

10 ppm Metallic Nano-Silver.
Patented Nano Silver Sol Process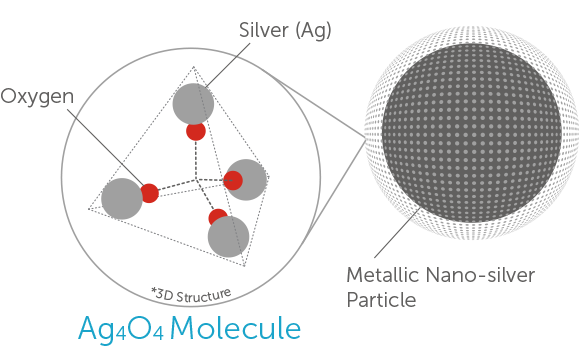 Ag404 MOLECULE: A thin multivalent silver oxide coating, built of numerous Ag404 molecules, surrounds the metallic nano sized silver core.
MORE STABLE AND BIOAVAILABLE: With the Ag404 coating, the nano silver particle is attracted to the surrounding water molecules, and as such, becomes part of the structure of the water. This makes the silver much more stable and bioavailable than other forms of silver.
MULTIPLE MODES OF ACTION: Testing has uncovered multiple modes of action by which the Metallic Nano-silver Particle functions. First, it has an ability to steal multiple electrons (compared to ionic silvers which can only steal one). Second, each particle is permanently embedded with a resonant frequency, which allows the particles to have a positive effect on things, without needing direct contact with them. Lastly, the particles also utilize a very useful electrostatic charge.
OLDER SILVER TECHNOLOGIES:
IONIC SILVER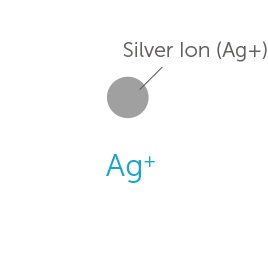 Ionic Silver is one of the most common forms of silver liquid found in the supplement industry today. Many are made by diluting chemical forms of silver, like silver nitrate, to a desired parts per million (ppm), which is then bottled and sold to the public.
Although ionic silver products have the smallest particle size, they are often the least stable and can easily fall out of solution.
Additionally, ionic forms of silver only have one mode of action. Once each silver ion steals its missing electron, it becomes neutral and is no longer useful.

Lastly, ionic forms of silver are metabolized, and as a result, can bind up in the body. Over extended periods of time this build up could cause a skin condition known as Argyria, otherwise known as the blue man's syndrome.
SILVER BOUND WITH PROTEIN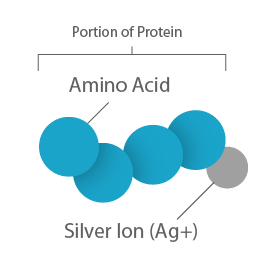 Mild silver proteins are simply another form of ionic silver. The only difference being that because ionic forms of silver are not generally stable and because they contain unusually large amounts of silver, they are sometimes bound to a protein.
The idea behind binding the ionic silver to the protein is to help make the product more stable than traditional forms of ionic silver, as well as, hopefully making the ionic solution more bioavailable.
However, as a result of this binding with protein, the silver ion is less functional and useful than traditional ionic silver ions. Consequently, higher levels of silver (ppm) are needed to obtain the desired effect.
These statements have not been evaluated by the Food and Drug Administration. This product is not intended to diagnose, treat, cure, or prevent any disease.
This product has saved us a lot of pain and a lot of money! We use it for everything from infections to belly aches!

Absolutely one of the best products I've ever bought!

Silver Sol Solution @ 10PPM

Silver sol at 10PPM is great and I've been ordering the 16 fl oz of it and will continue, the Tooth Gel and Skin Gels are amazing as well. My family LOVES this stuff and Drs. that i have talked to about it do also!!! Its truly an amazing product!!

One Silver Solution - 10ppm

We are new to this Silver but thought enough of it to make our second purchase which included the gel and max strength solution. So far we are grateful to have found these products for use in our home.

Good For Internal Health!!!

We were introduce to Silver Solutions over a year ago and
it has lived up to its expectations. This is the real deal.

I love this Product, I put it in my drinking water, it's refreshing.

Excellent Product, VERY Affordable

This is the best immune support product out there. After using it for a couple months I was so convinced that I got my entire family turned on to it. I won't travel without it and it's one of my essentials during flu season. Thanks to Silver Sol I haven't been sick in years. Love this stuff!

An Important Holistic Antibiotic Alternative!

This helped me when I was run down, after battling Lyme Disease and bad Mono. I'm going to continue taking it!

Fantastic Product Which I Am Always Bragging About!

I have used this product for years and a lot of our friends are aware that I always have a small bottle in my purse and they come running to me when they have a mishap, bug or bee bite, burn, cut, allergic reaction, etc. for me to spray them. They are always amazed at how fast this product works.

I originally ordered this product years ago to see if it would help with a skin problem between two of my fingers due to a chemical type burn from a cleaning product cause nothing I tried worked and I had tried numerous products. I started spraying the silver as soon as I received it and I did this several times a day letting the silver absorb in my skin. The next day to my amazement and joy this skin problem was gone and has never come back. I had this chemical burn for quite a while so these results sold me on the product!

When I am asked about where to buy it and I give them the info ~ I also tell them you may get other types of silver cheaper but I do not believe it will not work as well. I also let them know that I don't buy products that I have not researched and know how they manufacture their products. I let them know that I can not testify as to how other silvers will work and I am not willing to try any other company's product ~ I am a faithful customer of this company and their products.

I will always keep a family size bottle on hand and make sure I never run out.