DOUBLE STRENGTH 8 oz (22ppm) 3 Pack

8 oz 22ppm Silver Solution.
Boost your immune system with Silver Sol. US Patents: 6,214,299; 6,743,348; 7,135,195
• Backed by Science
• Tested by certified independent laboratories
• Specialized Patented Manufacturing Process Makes the Difference
Nano manufacturing process . . .
Through years of testing and work the American Biotech Labs team has been able to develop and patent a manufacturing process that created a much more stable silver product. This new silver technology created an engineered silver nano particle making it the best silver product ever created. Scientists from all over the world have been testing and validating American Biotech Labs products.
American Biotech Labs was granted manufacturing patents in 2001 and 2004 with numerous patents currently pending.
Supplement Facts
Serving Size: 1 tsp. (5ml)
Servings Per Container: 48

Ingredients:
Purified Silver 110 mcg*
*Daily Value not established.
Other ingredients: Deionized (distilled) Water.
Suggested Use:
Adults: 1 teaspoon up to 3 times daily.

Children: 1/4 to 1/2 teaspoon once daily.

Increase as needed or desired.

Best if taken one hour before or after eating.
This product has a 2 year shelf life from date of manufacture.
Store at room temperature.
WARNING: If you are pregnant, nursing or have any allergic reaction to
trace minerals or if you have any chronic or recurring symptoms or illness,
consult a healthcare professional before using this product.
Contains no artificial ingredients, preservatives or additives.

100% Vegetarian.

Gluten Free.

22 ppm Metallic Nano-Silver.
Patented Nano Silver Sol Process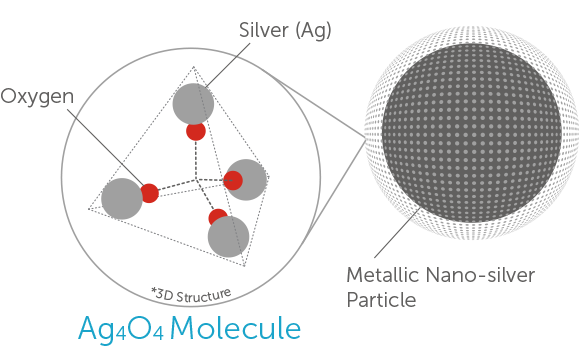 Ag404 MOLECULE: A thin multivalent silver oxide coating, built of numerous Ag404 molecules, surrounds the metallic nano sized silver core.
MORE STABLE AND BIOAVAILABLE: With the Ag404 coating, the nano silver particle is attracted to the surrounding water molecules, and as such, becomes part of the structure of the water. This makes the silver much more stable and bioavailable than other forms of silver.
MULTIPLE MODES OF ACTION: Testing has uncovered multiple modes of action by which the Metallic Nano-silver Particle functions. First, it has an ability to steal multiple electrons (compared to ionic silvers which can only steal one). Second, each particle is permanently embedded with a resonant frequency, which allows the particles to have a positive effect on things, without needing direct contact with them. Lastly, the particles also utilize a very useful electrostatic charge.
These statements have not been evaluated by the Food and Drug Administration. This product is not intended to diagnose, treat, cure, or prevent any disease.
Amazing product that I continue to purchase for peace of mind and better health during the cold season and for much more. Have used on small abrasions, rash and a small amount sniffed into nasal passage to get tremendous relief for the beginnings of a sinus infection. Unclogged my stuffy nose over night and allowed me to breath freely within 24 hours.

Best product I have ever used to help with sore throats and cold symptoms before they take hold of me.
This is the second year of no coughing, sore throat or flu symptoms. I gargle and swallow and symptoms are gone within 12 hours. This item will always be within my reach for colds and much more.

An awesome product!!!!! I finally got rid of my bladder infection and irritation and boosted my immune system!!!